Thanks to the support, Kindness Starts With Me is launched!
The objective couldn't be more timely when so much attention in the news has been focused on the effects of bullying, teaching a kindness lifestyle reinforces and inspires children to be kinder, more loving and accepting. I realized the importance of involving children directly in the development of the kindness project – and I decided to design and test the program with a group of students at a Sarasota's Alta Vista Elementary School working with underprivileged youth.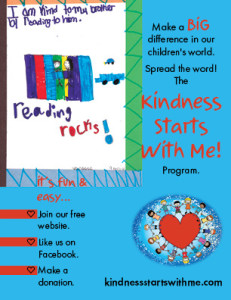 We now need your help to inspire more children to make the world a more loving, accepting and compassionate place—and to eliminate bullying. Our goal is to spread the Kindness Starts With Me program to children of all ages, their families and additional schools. Visit our website to find out more about the many aspects of the program, which includes a related print book for students, and to learn how to get involved. Participate now! Here are three easy ways to support the program:
Visit the website and SIGN UP for free at kindnessstartswithme.com
"LIKE" us on Facebook & be part of the lifestyle!
facebook.com/kindnessstartswithme
Make DONATIONS of any amount through the website.
* Kindness Starts With Me is a lifestyle and community movement created from Love is The New Currency.