Global Neighborhood
"To love one's country is natural, but why must it end at that border?" Pablo Cassals
Have you ever heard these words as a child: "Finish your vegetables, because poor people are starving"? It didn't mean much to me then because I had never seen someone starving in China or India or anywhere. Today, because of cable television, we regularly see the hungry faces of people in other countries in our living rooms, kitchens, and classrooms. It makes the plight of others more tangible.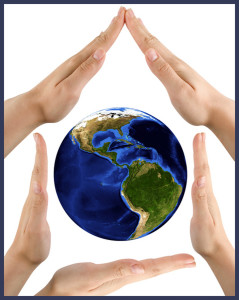 Global has become local. As our awareness has expanded, we are experiencing a universal connection that can transform everyone into a neighbor with the click of a button.
Is anyone really so far away? Even if people look different than we do, are they really?  Don't they hurt like we do when they lose a loved one? Don't they suffer if they lose their homes or businesses? And don't they feel despair when they're hungry, sick, lonely, or weary? It's evident that our neighbors are everywhere and we all need each other's help.
With each world crisis, we are reminded that in one moment our lives can change. In one moment we could lose all that we love and hold dear. The people living in the Philippines, who share the same moon, sun, and planet as we do, experienced a series of moments when the winds and waters shifted and thousands of lives were lost, while thousands more were changed forever. Our fellow world citizens are hungry, thirsty, injured. Many have lost their loved ones, homes, and even entire villages.
We don't have to belong to the same family, community, neighborhood, or country to extend a helping hand, to offer financial, physical, or emotional support. In fact, we are all part of one tribe: It's called the human race. Millions of us throughout the world share a heart connection as we join in prayers for the health, safety and well-being of the victims of cataclysmic disasters around the globe.
Regardless of religious or spiritual beliefs, we have come to realize that what we do for or to each other matters. As our concept of neighborhood expands to global proportions, we express our currency of love by seeing a need and doing our best to meet it. In doing so, we discover and experience the sense of oneness that almost all religions speak about—a connection to the divine source of life itself—and we are all equal participants.
Revised excerpt from Love Is the New Currency by Linda Commito
If you are looking for ways to help, here are a couple of organizations making huge differences:
Advancing Compassion Project

(www.advancingcompassion.org)

is a U.S. based non-profit directing all Philippines-designated donations to several groups providing critical on the ground relief activities, including the Philippine Red Cross, CARE International and Action Against Hunger.
ShelterBox USA

(www.shelterboxusa.org)

 is accepting donations toward the purchase of shelter box tents for those in the Philippines.